News: Pooki's Mahi Implements Technical Upgrade To Prevent Resellers From Selling 100% Kona Coffee Single Serves Below Approved Pricing
We've updated our definition of a distributor with specific requirements and which type of companies will never qualify as a distributor.
Updated Definition: Retail Food Distributor vs. Wholesale Food Distributor
Pooki's Mahi's works with two types of distributors: Retail Food Distributors and Wholesale Food Distributors.
Retail Food Distributors act as middlemen between the manufacturer or farmer and the consumer through retail chain stores. Retails purchase either directly from food producers or through a wholesaler and then work to market the item to the public at the retail level. Examples: Sysco, Walmart, etc.
Wholesale Food Distributors purchase products and then take the responsibility to move them from the warehouse to the companies that resell them or businesses who use them. Wholesalers add an additional step to the process (in comparison to partnerships with retail food distributors), but make the product more widely available.
Distributor discounts are earned and never given to a random, untested Reseller. The current distributor qualification process:
Step 1: Qualify as a Reseller - complete Pooki's Mahi's Reseller Application.
Step 2: E-sign the Master Reseller Agreement. You'll receive the link via email.
Step 3: Activate your Reseller account. You'll receive the link to your account info.
Step 4: Sell Pooki's Mahi's products for 1.5 to 2 years with proof you've reached $85K USD in monthly sales.
Resellers must consistently reach $85K USD in monthly sales; otherwise resellers are looking for quick "get rich schemes" and not delivering on the contractual agreements.
We're cracking down (keeping a close watch) on unqualified / rogue resellers who sell below the MAP price of $47.99 for Pooki's Mahi's 100% Kona Coffee Single Serves, 100% Maui Mokka Coffee Pods, and 100% Ka'u Coffee Pods; $57.99 for Pooki's Mahi 100% Kona Peaberry Coffee Single Serves. Pooki's Mahi manufactures/distributes high-end, high quality 100% Hawaiian coffee individually wrapped k cup products. We have very tight controls on our inventory.
Unqualified resellers selling our products below the MAP price are looking to scam customers on marketplaces like Amazon, eBay, Sears, etc. This leads to a very poor customer experience with the customer filing complaints on Pooki's Mah's Customer Success Center. Unqualified resellers do not have tight controls on inventory. Often times they will sell a product that is expired.
Non-Negotiable Requirements:
Submit $85K in monthly orders on PookisMahi.com
Order by the Minimum Case Pack (192 / 323 units).
Submit a weekly forecast for the next 30+ weeks.
Pay Pooki's Mahi on time per signed agreement (no more than 30 days).
Distributors must own their own fulfillment center.
Distributors must pay for shipping.
Distributors must not fabricate deductions out of thin air.
Distributors must not aggressively close support cases filed.
Distributor discount is NOT guaranteed and dependent on all the number of COOP charges.
Distributors (Disty) resellers know their customer profile, customer journey and advertising channels used to sell the product. The following are RED FLAGS indicating the reseller is not qualified to distribute Pooki's Mahi's product lines:
Expecting vendors (Pookis' Mahi) to pay for marketing to sell the products. This is already covered in one of the COOP payments.
Disty Resellers who sell

below

the universal MAP price of $47.99 for 100% Kona coffee single servesor $57.99 for 100% Kona coffee, Peaberry Single Serves. Disty Resellers start at $42.99 - Coop Payments = 38% or more discount.
Disty Resellers requesting Pooki's Mahi to create 125+ "unique SKUs" from existing SKUs. We created 125+ unique SKUs from 2014 to Q1 2016 for a reseller that did not generate $85K monthly sales nor sold any of the unique SKUs. Waste of time.
Disty Resellers bullying Pooki's Mahi's executives for a lower price because the buyer is looking at the overall box price (not at the price at the cup level), doesn't understand Pooki's Mahi's product lines, value and what makes Pooki's Mahi unique.
Disty Resellers who are looking for quick get rich schemes and can't explain their existing customer profile.
Disty Resellers who don't consistently meet the minimum selling requirements. #TalkIsCheap
Disty Resellers who don't own fulfillment centers but will create new (duplicative) listings on marketplace platforms. This is affiliate marketing and does not qualify as a reseller.
Disty Resellers who claim there is a "partnership." Disty Resellers are not partners. Disty Resellers are Pooki's Mah's customers as explicitly stated in the Legal Agreements signed by both companies.

Disty resellers will use the "We're partners" clause until we point out the legal agreement clause. Disty resellers attempt to use "partnership" as leverage for Pooki's Mahi's executives to agree to a Disty Price of $28.99 (or any price below $42.99).

Disty Resellers who are interested in Pooki's Mahi's brand advocates (mainly celebrities) or executive's network.
Volume Discount Screen Shot:
Reference Link: http://pookismahi.com/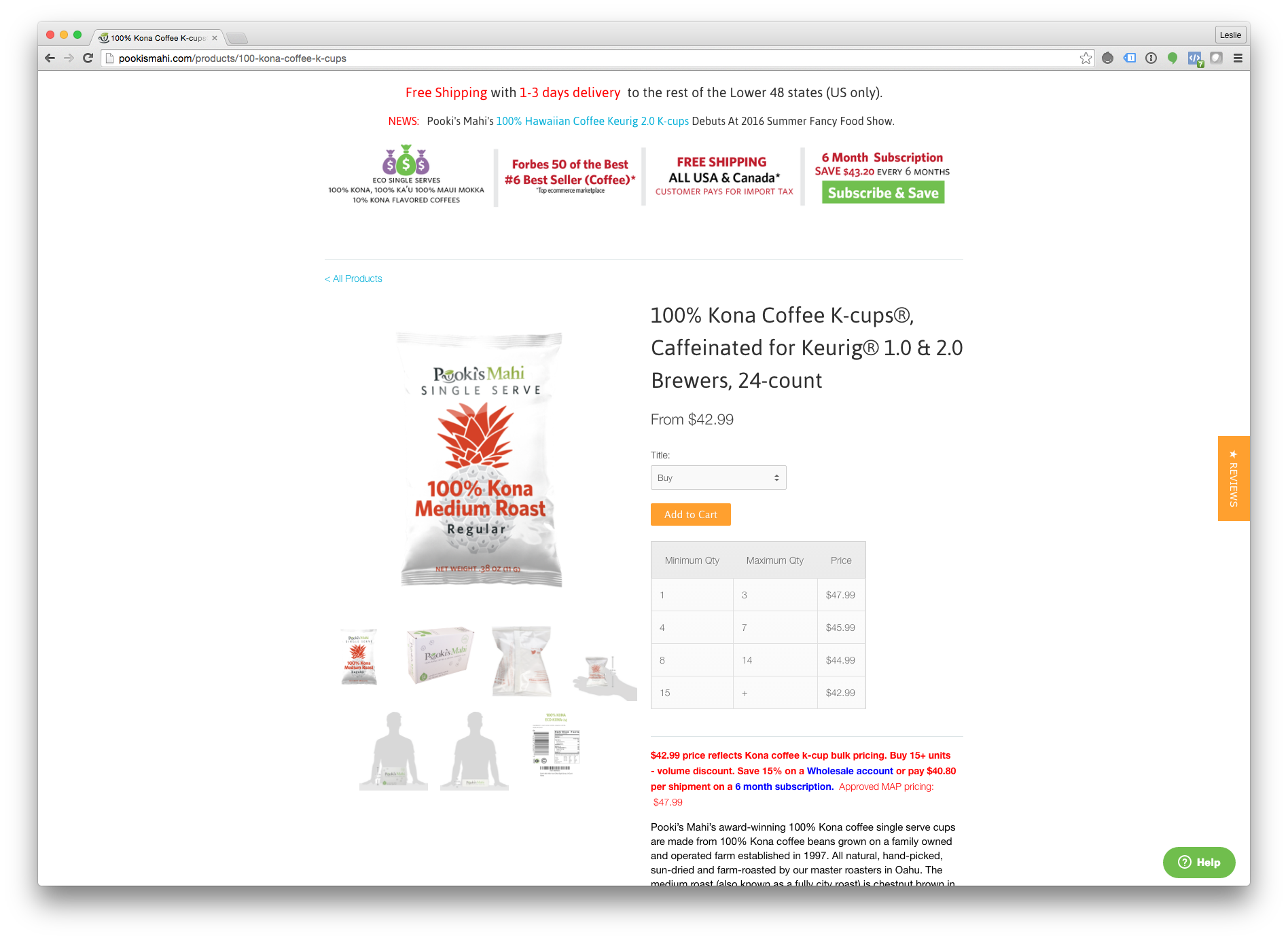 Pricing Tiers: One Time, Monthly, 3 Months, 6 Months
Reference Link: http://subscriptions.pookismahi.com/